FIELD DAY 2020
June 27 - 28th. This year we will have a informal Field Day, at the tower site at US 35 & Schultz Rd. Basicly do what ever you want. Use your own call sign. Nothing scheduled for Friday. Saturday we will have a bonfire, weather permitting. If you want to set up a station it is your station, your rules as to who can operate, or be at your station. If you need electric let us know. If you want to camp out over night, plenty of room. If you want to come just to be with friends you haven't seen in a few months, come on out. There is 10 arces of land,plenty of room to social distance. Currently we looking to maybe ordering some pizzas around 5pm on Saturday. That depends how many show up. We'll most likely start the bonfire around then. We know of a handfull coming out. We have no info on stations setting up.
International Light House / Light Ship Weekend 2019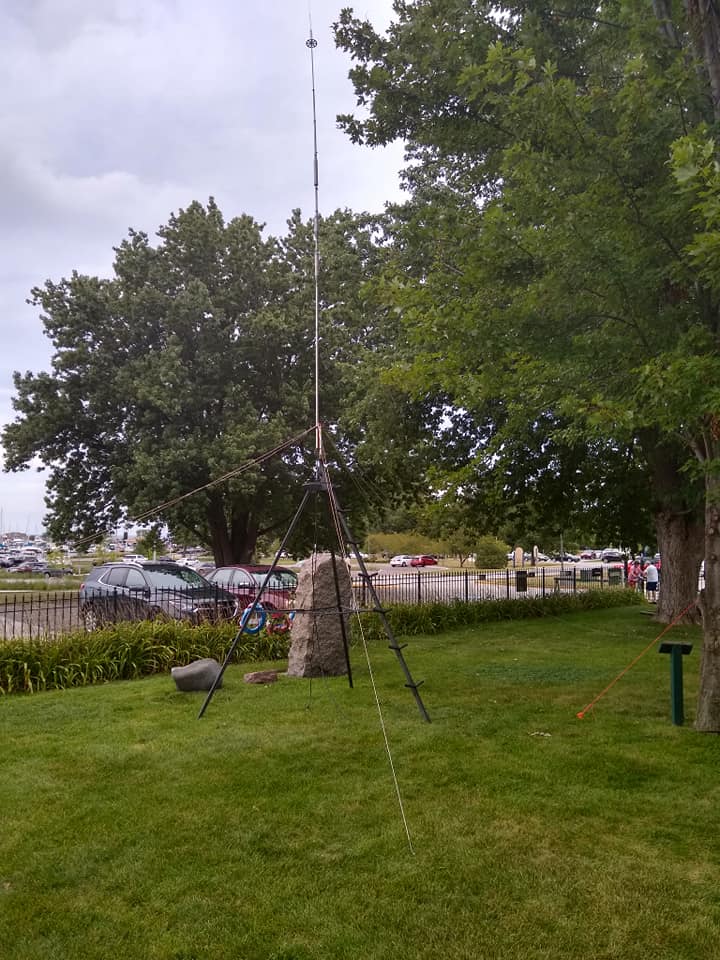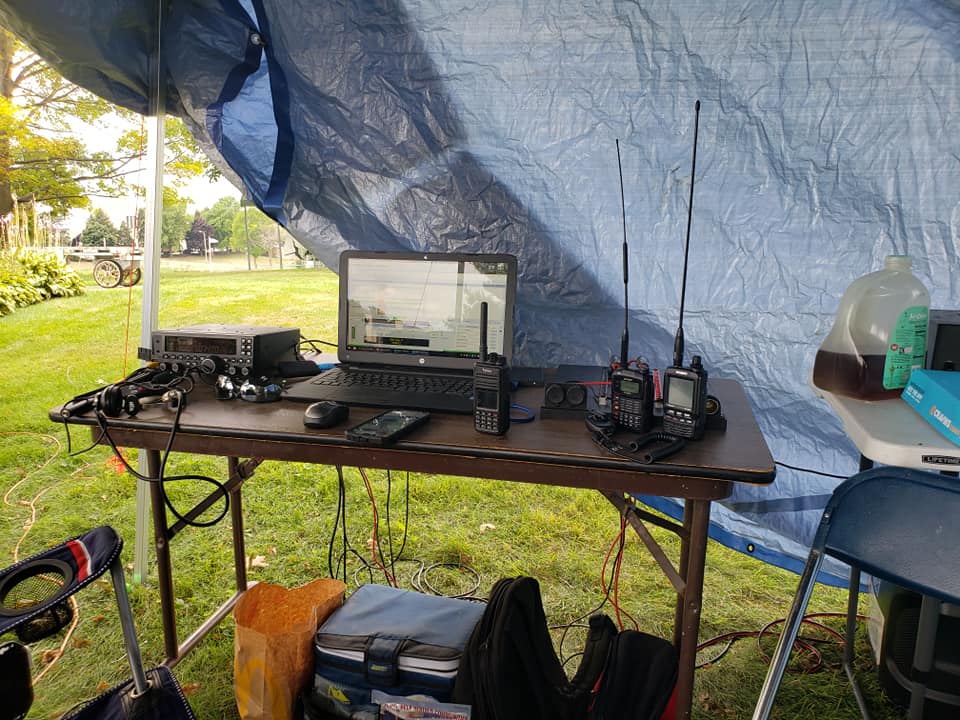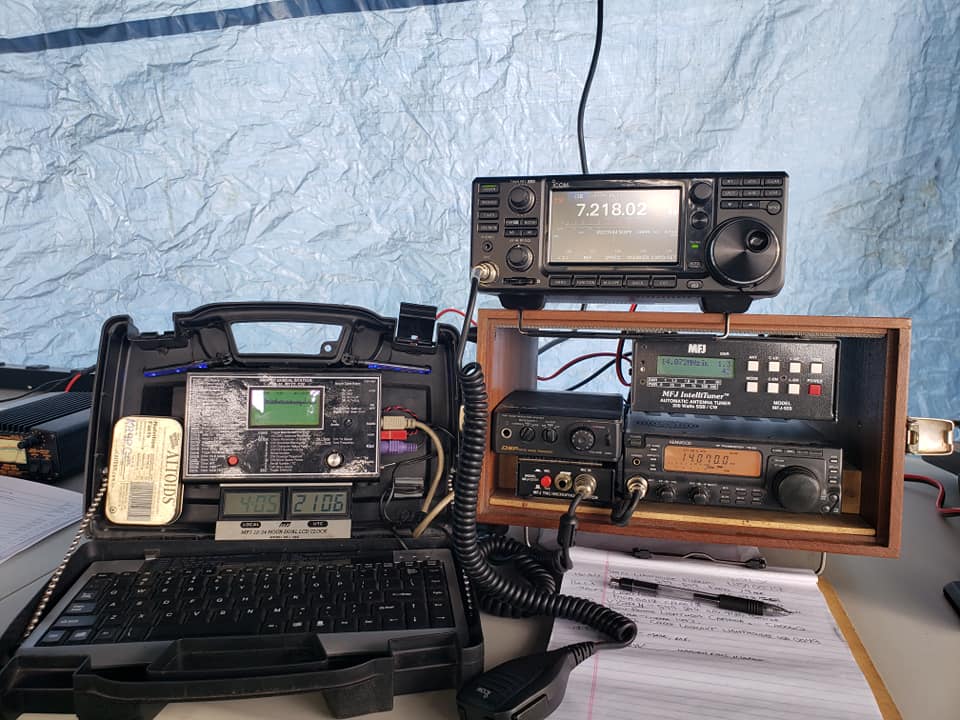 Every year since 1998, the third weekend of August Hams around the world set up stations to put Lighthouses and Lightships on the air. Out of about 400 locations, 291 are registered to participate in this event. Michigan City Lighthouse Museum is listed as US0079 as its radio ID. Operations last 48 hours and ends on Sunday at 3pm local time.
This year The Laporte County Amateur Radio club because of bad weather operated only 24 hours under the callsign W9LY. Weather affects not just portable operations also how the radio signals travel. Either you are aided by it or it shuts down communications. This year was difficult. 4 years ago, it was easier to work Europe than State side contacts. This is not the only activity on the air. You never know what you will be up against. Its a contact sport.
3 stations were set up by Troy Harrison KC9E , Ken Osbourne N9ZIP, John Phillips KA9PGC, Bill South N4SV, and Travis Taylor KC9TWX. Operations were not limited by just those operators. We had a club showing with out of town visitors.
Out of 63 contacts, we worked stations in the countries of Japan, Canada, Cuba, Puerto Rico, and of course the United States.
We worked stations in the following states:
California
, Connecticut
, Georgia
, Kansas
, Indiana
, Illinois
, Louisiana
, Maine
, Maryland
, Michigan, Missouri
, New Jersey
, New York
, Montana
, North Carolina
, South Carolina
, Texas
, Virginia
.
7 Contacts were from Lighthouses. 1 from a LightShip
Swallow Tail Lighthouse Grand Manan Island, NB, Canada CA0018
Point Prim Prince Edward Island, Canada CA0062
Permaquid Point Lighthouse, Maine US0214
Absecon Lighthouse, Atlantic New Jersey US001
Lightship Huron LV-103 Michigan US0229
Fort Niagra, New York US 048
Cape Lookout North Carolina US0049
Point Arena Lighthouse, California US0117
The club looking forward to returning next year.
Fixing the 970
Club members spent a Saturday morning repairing the 146.970 repeater. Winter took it's toll, wrapping feedline in our antenna, and wrapping the antenna into the mast.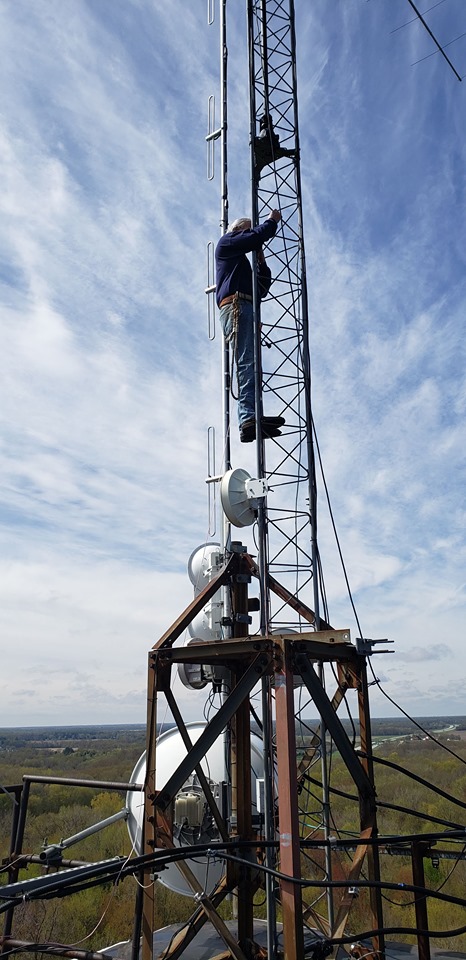 APRS..... Is up and running in LaPorte County. Thank you Les Turner W9LRT, for the new Digi. 4/20/2019